Regular price
$141.00 USD
Regular price
Sale price
$141.00 USD
Unit price
per
Sale
Sold out
Perfect gift for any ocean lovers! Each piece in this gift set evokes a scent that you would find by the ocean and will whisk you away to a tropical paradise.
This gift set includes:
1-Sea glass Mosaic Pluggable Wax Warmer
1- Vintage Turquoise Tabletop Warmer
5- 5 oz Bags of Wax Chips in Ocean inspired scents:
Ocean Mist + Moss: Smells like vacation! The scent of turquoise crashing waves and soft grains of sand create peace and calm. With notes of golden lilies and tea-like coral, and a cloud-like musk and a soft mossy finish.
Sea Salt + Sandalwood: Fresh marine notes of ozone, sea spray, sea-kelp, wave-weathered driftwood, and a hint of water lily is blended with rich and exotic notes of sandalwood.
Pineapple + Ginger: Succulently sweet and rich pineapple slices drenched with soft lily and spicy ginger root make this scent perfect for a tropical oasis.
Black Sand + Cool Musk: The fresh ocean breeze with undertones of warm sand. This fragrance starts with crisp Bergamot and pink grapefruit with bright green grass notes. The heart is a blend of green herbal and ozone with a sweet note of Muguet. The base is a blend of white musk and smoky vetiver.
Orange + Sugarwood: A delectable blend of sweet, juicy blood orange entwined with a woody floral of scraped redwood bark to create a bright and fresh aroma.
These are perfect for those who enjoy fine fragrance without the hassle of a flame. Add chips to wax warmer as prescribed.
3- 2 oz Bottles of Fragrance Room Spray
Ocean Mist + Moss
Sea Salt + Sandalwood
Pineapple + Ginger
Just one to three spritzes will fill an entire room depending on the room size.
About Us

As artisans, we hand-pour our products in the USA, with passion for our brand's craft and integrity. We develop our distinct scent combinations using 100% soy wax & the finest fragrance oils manufactured without phthalates or parabens. By using American grown soybeans, minimalistic packaging, and recyclable containers, we support the US economy and environmental sustainability.
Share
View full details
PRODUCT CARE
Achieve A Full Melt Pool

Burn no longer than four hours. Achieve a full melt pool every time you light your candle to allow it to burn evenly down for optimal scent diffusion.


Avoid Airflow

If your candle is lit and placed under a fan or draft, it can cause it to burn unevenly. Instead, place the candle where little airflow will affect the flames.

Troubleshooting Tips

If the flame seems too low, pour out a small layer of wax and relight.
If you trimmed the wicks too short, scrape out a thin layer of wax and light.
We Are Artisan Candle Chemists!
Seventh Avenue Apothecary is a family-owned business following in the spirit of 5 generations of Tampa business owners. Phala and Jessica are a mother-daughter team with passion. The candle manufacturing site is located in a historic building that was once a family dry cleaners, on the East end of Ybor City.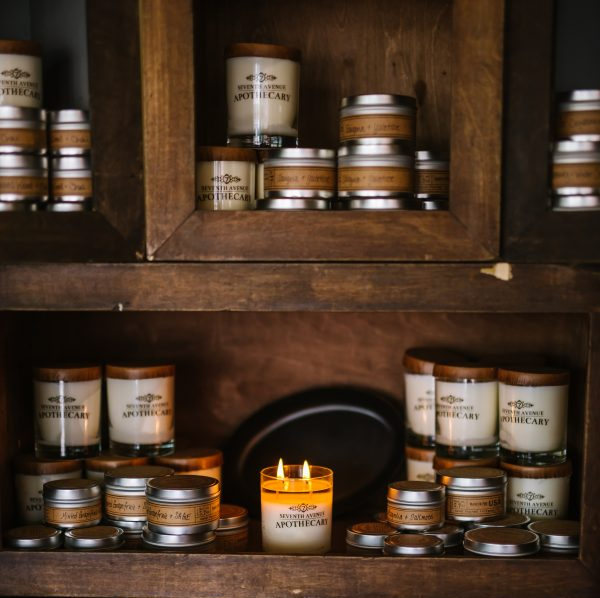 Store Location:
3810 E. 7th Ave.
Tampa, FL 33605
Hours:
Open Monday – Thursday
9 am – 4 pm
Contactless Pickup Available
Contact us:
online@seventhavenuecandles.com