Frequently Asked Questions
WHAT SHIPPING METHODS ARE AVAILABLE?
We ship Free Shipping using a shipper of our discretion and USPS Priority Mail for paid shipping orders.  You have the option to upgrade a "Free Shipping" order to USPS Priority Mail if desired.  All of our candles are made, packaged and shipped from Tampa, Florida.
DO YOU SHIP INTERNATIONALLY?
Unfortunately, we do not currently ship internationally.
DO YOU CREATE CUSTOM CANDLES?
Yes, we do. To begin the process visit our Private Label page and fill out our application. We will get back you as soon as possible about your project!
HOW LONG WILL IT TAKE TO GET MY PACKAGE?
If you selected to pay for shipping on your order, you should get your package within 3-5 days after shipment is confirmed, through USPS Priority Mail if you are located in the continental United States.  Free shipping orders should arrive within 7 business days from time of shipping confirmation.
WHO SHOULD I CONTACT IF I HAVE ANY QUESTIONS?
You can contact us at 813-247-3814 or you can email us at info@seventhavenuecandles.com
HOW CAN I RETURN A PRODUCT?
If your product is defective please contact us at 813-247-3814 or you can email us at info@seventhavenuecandles.com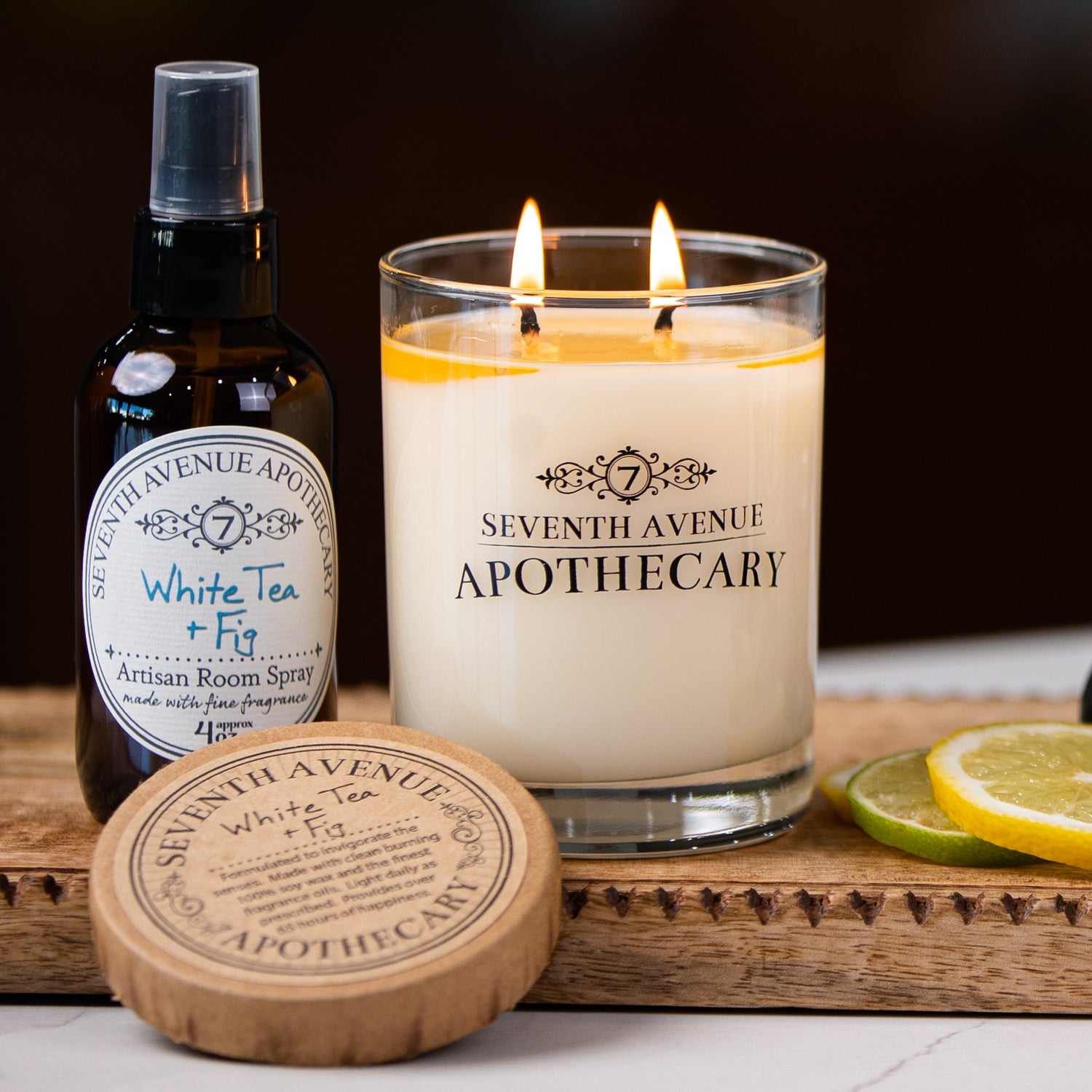 Discover our Best Selling Scent! 
Our White Tea + Fig Fragrance - a must-have addition to any home!
This scent combines the juicy citrus notes with the fresh and peaceful floral aroma of white and green tea, finished off with the sophisticated essence of sweet fig.
Why White Tea & Fig?
Experience the Essence of Luxury

The sweet fig scent draws an enchanting aroma that will tantalize and satisfy any luxury lover. Whether it's your home, car, or office, this soothing fragrance will bring a lush layer of luxury that will elevate your space and your mood.

Indulge in The Alluring Scents of Fresh Fig

Figs are known for their unique and fruity sweetness, and our White Tea + Fig scented candle captures this essence perfectly. Indulge your senses with this exquisite blend of scents, designed to captivate anyone with a passion for sensory experiences.

Irresistible Citrus Notes

Discover the tangy citrus flavors that tantalize the taste buds combined with the fresh and tranquil floral scents of white and green tea. Awaken your senses with this unique blend of nonpareil notes mixed with sweet fig!
Experience This Luxurious Blend